Fuji Xerox Iridesse
raises the bar

.
With two
industry-first features:
Six-colour print engine
Bringing unprecedented power of expression to digital printing
Underlay with specialty Dry ink
Realising offset-like metallic colours to enhance your printing needs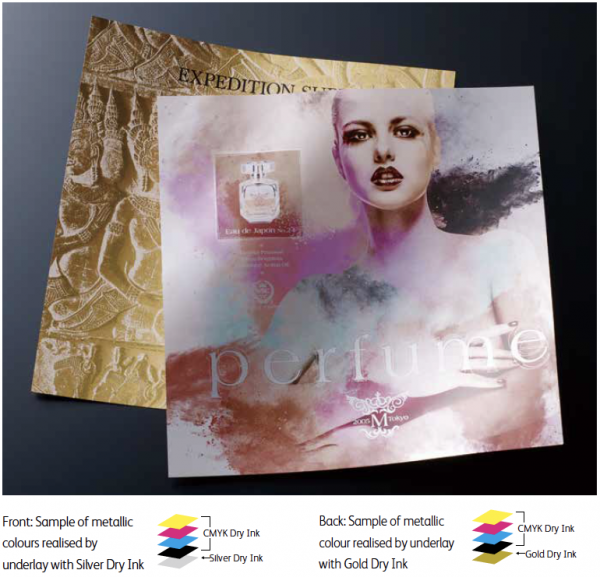 Featuring an industry-first six-colour print engine, Iridesse™ is able to print different eye-catching specialty colours in a single pass, including the shine of gold, silver and metallic. This is in addition to the common cyan, magenta, yellow and black (CMYK).
This gives Iridesse™ the unique ability to reproduce colours with added complexity. Glossy, shimmery or metallic offer a whole new range of possibilities for effective and stand-out marketing. For printing of SRA3, A3 posters, booklets, brochures and catalogues up to A4 size, Iridesse™ faithfully reproduces the richness and vibrance of your brand colours and marketing collateral.
Specialty Dry Inks in White Dry Ink and Clear Dry Ink bring new possibilities of exciting design expression. The colour white is not usually easily reproduced, however Dry ink technology means that the variables in colours and finishes can now be fine-tuned for applications from digital display to printed paper. For example, white ink's high brightness and opacity allows the Iridesse™ to accommodate printing on dark or other specialty paper, while clear ink allows printing on highly textured paper, for a glossy finish, like varnish. Vivid printing is a cinch with Pink Dry Ink, to faithfully reproduce vivid orange, red, and violet with increased colour fidelity.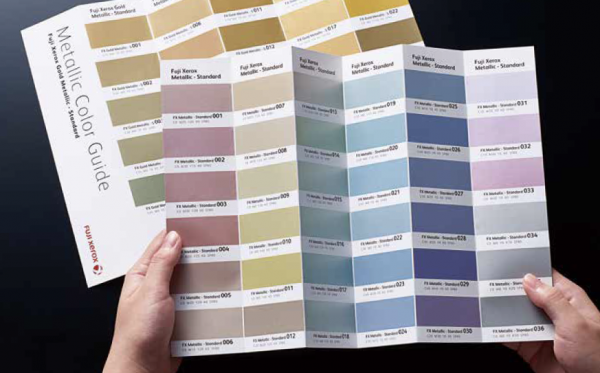 Pantone-grade metallics
Iridesse™ is the production printer that leads the pack. The innovative CMS (patent pending) also offers a variety of metallic colours including Pantone-grade ones, during a single printing process. These colours are almost as good as offset inks, and can be easily selected from applications, by designating the colour codes.
High-print resolution, faster printing
Iridesse™ also boasts high-printing resolution of 2400 x 2400 dpi for high-definition images, rich in depth and beauty. With a wide range of options that will bring new possibilities to your business, Iridesse™ supports a variety of paper sizes including postcards and banners. The Iridesse™ Production Press is also highly productive, printing 120 pages per minute on 400 gsm paper.
Less time and cost
If you want to move your printing needs beyond traditional offset printing, the digital capabilities of Iridesse™ can process your job with less time and cost, while adding high-quality and value to your printed materials.
Just like Gutenberg, at Crucial Colour we're moving with the times. Talk to us about putting Iridesse™ to work on your next print job. As an exciting alternative to conventional offset printing, Iridesse™ offers the flexibility, scope and vibrancy you have been looking for.

Fuji Xerox Iridesse takes digital printing to a whole new level
The Iridesse prints six colours at 120 pages per minute on stock rated from 52 to 400gsm. It will give you banner sheets of 729mm (two-sided) and 1200mm (one-sided) and it handles a range of media from plain and coated paper to variations of specialty paper (coloured paper, aluminised paper, films, envelopes, embossed paper, and so on). The paper weight for auto duplexing is 360gsm. It offers CMYK plus two specialty colour stations and a range of specialty dry inks (Gold, Silver, Clear and White), along with metallic effects with a mixture of gold/silver and Pantone metallic as well as enhanced finishing with three-sided trimming and creasing. You can output multiple special colours in one pass, such as simultaneous printing of gold and silver.